Deadpool 2 will hit the screens on May 18 in US. But, not many know that Ryan Reynolds was the one who brought this movie to the theaters. 
Source: GQ
Deadpool movie was to be made in 2000
That was the time when Marvel Studios (them Marvel Films) became extremely and was allowed to license their characters and make new hit superhero movies.
Marvel was about to produce and distribute 15 projects (film, television, animation): Deadpool, Black Panther, Iron Fist, Power Pack, Morbius, Ant-Man, Longshot, and Mort the Dead Teenager.
For that time, Deadpool was described as an "uglified" killer who doesn't care if he lives or dies, not mentioning the fact he's immortal. So, you can see, a lot has changed during the decade.
It means Marvel was ready to show Deadpool on the big screen, but they didn't have the leading star.
In 2004, Deadpool comics involved a joke saying, "Ryan Renolds [sic] crossed with a shar-pei." Reynolds loved the joke and it made him want to play the character, however, he had this idea even before that.
Previously, David Goyer made 'Blade: Trinity' with Reynolds that proved that the future Deadpool could handle such genres as action and comedy. Goyer wanted to direct and co-write with Mark Millar, it never quite manifested.
So, Goyer had already started discussing with Reynolds about the part in the movie and the two eventually started working on the project.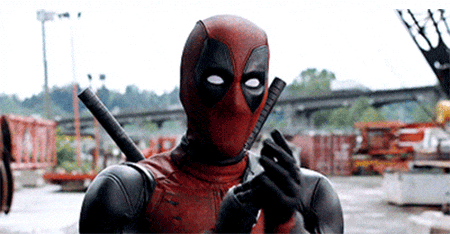 Source: Giphy
2008 and X-Men Origins: Wolverine
Fortunately, Reynolds always adored the character and helped to include him in X-Men Origins. Even this version of the character was loved by the fans, and they really wanted to see more of Deadpool and his solo movie, but Reynolds and Fox had still a lot to overcome to make it happen.
The production became more active after the first weekend of X-Men Origins: Wolverine, when it was reported a Deadpool movie was in development and the leading role was Reynolds'.
Tim Miller and Reynolds crafted the tested footage that leaked and convinced Fox to begin production on the film. Thank you, Reynolds, for being too loyal to Deadpool!
2018 and unicorn masks
At the beginning of May 2018, Ryan Reynolds visited South Korea as a part of 'Deadpool' promotion company. He took part in 'King of masked singer' and performed the song 'Tomorrow' from the movie 'Annie,' 1982.
He was in unicorn mask. Also, he writes something about 'Deadpool' on Twitter almost every day. See more of such promo stunts here.
---
MORE HOT NEWS
Summary
Article Name
Making-of 'Deadpool 2': Ryan Reynolds Wearing Unicorn Mask or Reasons Why Deadpool Saw the Big Screen
Description
Deadpool 2 will hit the screens on May 18 in US. But, not many know that Ryan Reynolds was the one who brought this movie to the theaters. 
Nexter.org
Nexter.org
/wp-content/uploads/2018/04/logo_nexterbg.jpg